My juniors gave us farewell party in malabar gate, calicut on 1st april.
They arranged transportation from college to malabar gate. Party started at 5:00pm. John(my junior) gave welcome speech. It was excellent. We were mesmerized with his speech.
They planned everything very well. As part of that, 2 juniors tisha and sri krishna did anchoring.
They started calling us with our own specialties. We were surprised with that.
They started with gurudatha, a calm and silent person in our group.
Guru shared many experiences with us. Main points were plucking fruits from many trees and cricket in NITC.
Then, the most sleeping person, Mr. Nagaraju.
Nagaraju, is a sleeping lion and they made a mistake of waking him up. He also shared his enjoyment with us.
Then, the person who is always first in the class and a great inspiration to all. He is kranthi. Kranthi explained how to enjoy very well in the campus and many placement issues. His speech was really awesome.
Then, the person who always chat with friends, that is BPR
Then, the most hard working person in our class, Nagaraju.S
Nagaraju is really a hardworking person always. He reads a lot. Every time we see him with many books. We gave nick name as
walking library.
He also shared many reading issues with my juniors.
Then, the person who sings very well and always in a cool mood. He is Rafeeque.
He sings very well, we can see the kind of emotion in his face while he is singing a song. We really love his songs (though we do not understand malayalam). We got another chance to have his nice song.
Then, the person with very high voice, Madam sabitha (QIP student). She gave a small speech.
Then, the person whose marriage is in next month, he is Abdul gafur. He spoke for few minutes. Shared many of his views with us.
Then, the person who watches many movies. He is senthil. Senthil speech was very funny. Senthil started explaining how to download movies from various sites, the people who uploads good movies and some sites. I am planning to write a software that will automatically download a movie form various sites depeneding on availability, he added. His speech was too funny.
we enjoyed it.
Then, the person who knows anchoring very well, she is kalavathi. She shared her experience in college with our faculty.
Then, last but not the least, one and only one. Thats me,
Suman
.
I know that many juniors know about me, Becoz, twice i went to their class and gave some warnings to keep the lab clean and to be responsible about the lab. So, they got a chance to screw me. I understood that and I took a chair, started talking some funny incidents in NITC.
I explained little about placements and the way they conduct tests and interviews etc. They asked me, how do u like to choose
ur partner? I explained them in my own way. " See 4 girls, select 3, try 2 and marry one". Every one clapped for that dialogues. But they do not know this is copied from a movie.
They asked me how can u have 4 members in ur heart. I told again some movie dialogues. Man heart is like a
7 seater auto in hyderabad
, no matter how many ppl are there, there will be always a place for one more.
They clapped again for this.
My juniors told us to collect one gift for each from the table. As, I and BPR was expecting that there will be something wrong in that becoz, today is april 1st. As we expected, rafeeque got a tile saying that all the best and april fool. They gave another gift for rafeeque. That idea was too nice.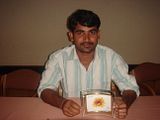 Then we moved into another hall. Juniors conducted some games. Eating competition for 3 ppl, candle lighting, balloon blasting etc.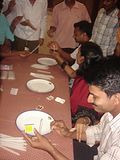 After that they started another game with all of our classmates. We were formed a circle and they gave a ball kind of gift
and told us to pass it to next person. In the background they put a song. Game rule is who ever have the ball when the music
is stopped or who drops the ball, they were out of the game. I managed to maximum extent and eliminated all my friends
sitting next to me. Finally BPR and me were in the game. We were holding the ball in middle and not passing it to any one.
Juniors dragged us to other ends, and we enjoyed the game very well. Finally, I won the game.
Every one of my classmates were eager to see what the gift was. I opened it, its a coconut without water. ha ha ha, i became
fool by winning the game. But the idea is too good.
Then we had wonderful dinner. We really enjoyed the food very much. Generally we face problem with the taste in calicut for many occasions and parties. But this party food was prepared very nicely. We filled our stomach up to the neck.
Femina, one of my junior, her daughter. Very cute smile....:-)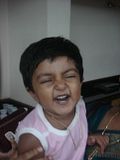 Then there was a candle light event. In which all students holded 2 candles each and all the lights were off. They chose very appropriate bakcground song. It was too good.
Dont miss this two photos.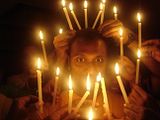 Vishnu, one of my junior. His birthday was on 2nd, so we told him to cut a cake and we gave bumps to him.
Girls were having permission till 8:00pm. So they returned to hostel. After they left Malabar gate, we started our disco. It was for 2 hours. We enjoyed a lot while dancing with friends.
It was very nice party arranged by our juniors. I thank each and every person behind this program. Its a wonderful experience in my NITC life. Thanks a lot to my juniors.
Finally, Our group photos
I uploaded some more photos here